Setup your first WebSite




DigiSpace Platform supports an unlimited number of websites (public or intranets) which can be configured and customized based on your needs.

For better control is recommended to separate each website using isolated workspaces.

In order to have a new website up & running you should follow the below simple steps:

1. Buy a domain name from internet and setup the A records of it to point at your webserver where the digispace platform has been installed.

2. Switch to your Personal WorkSpace (usually has the name 'Personal-1')

3. From the Super Admin menu, go to Web Sites and add your website name i.e www.mywebsite.com .

4. From the Setup menu, go to 'My WorkSpaces' and creata a new workspace for your new site.

5. To your new workspace add the following modules:

Docman
Website
Webbuilder

6. Switch to your new workspace

7. From the WebSite menu, go to 'Re-assign a website' in order to assign the www.mywebsite.com to this workspace.

8. All done. You are now ready to start adding content !!!

Need an Office ?

| | |
| --- | --- |
| | Land-Line number |
| | Fax Number |
| | Full Professional Website |
| | Email Accounts |
| | Accounting software and more.. |
Setup your first WebSite
DigiSpace Platform supports an unlimited number of websites (public or intranets) which can be configured and customized based on your needs.
For better control is recommended to separate each website using isolated workspaces.
In order to have a new website up & running you should follow the below simple steps:
1. Buy a domain name from internet and setup the A records of it to point at your webserver where the digispace platform has been installed.
2. Switch to your Personal WorkSpace (usually has the name 'Personal-1')
3. From the Super Admin menu, go to Web Sites and add your website name i.e www.mywebsite.com .


4. From the Setup menu, go to 'My WorkSpaces' and creata a new workspace for your new site.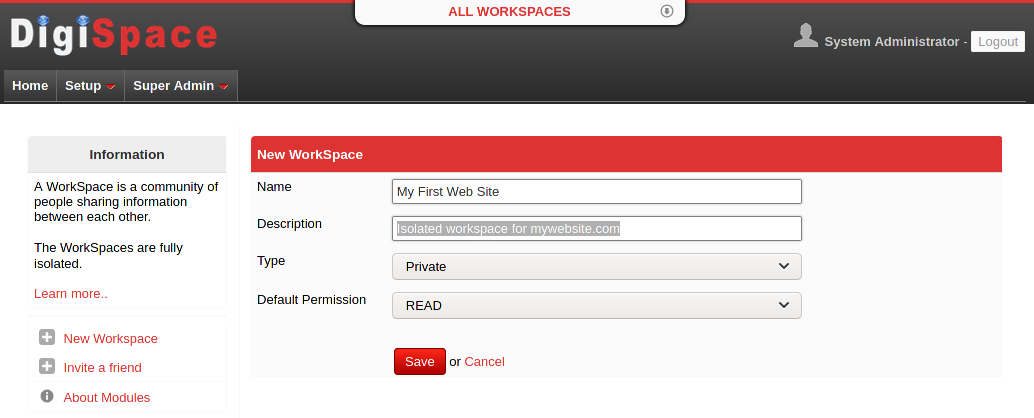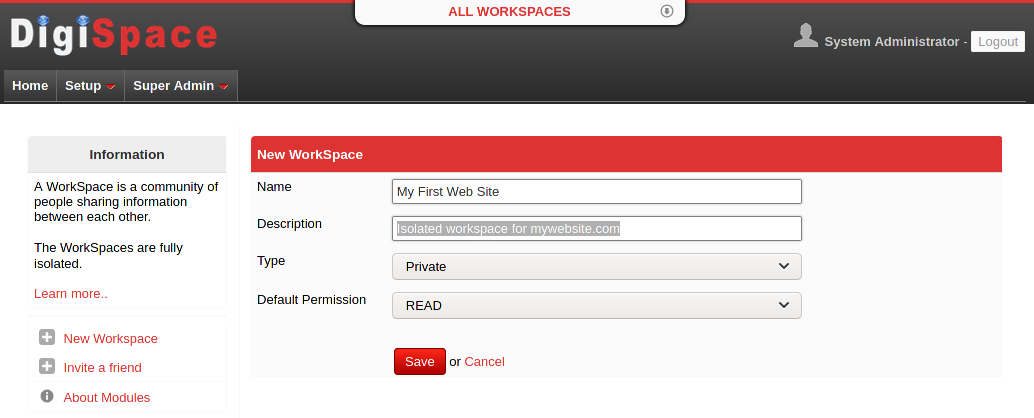 5. To your new workspace add the following modules:
Docman
Website
Webbuilder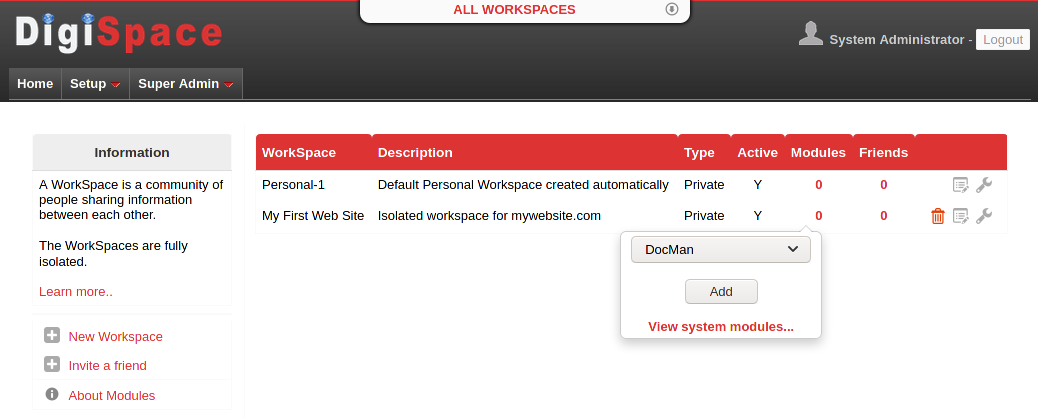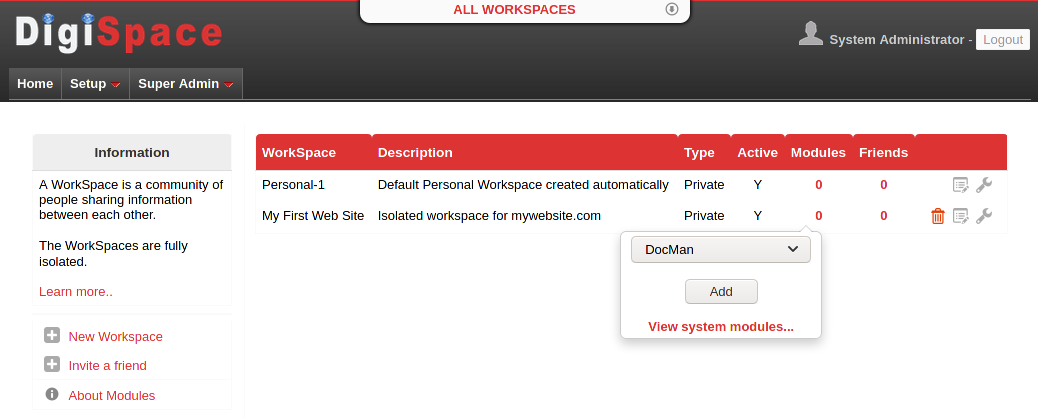 6. Switch to your new workspace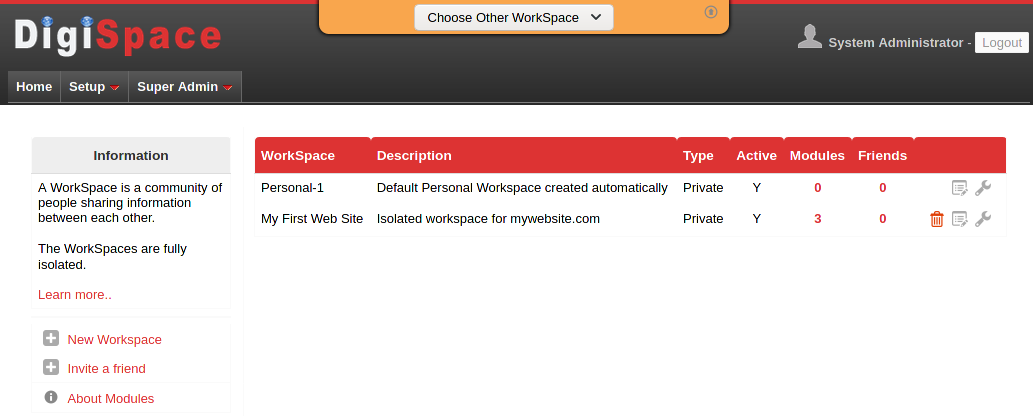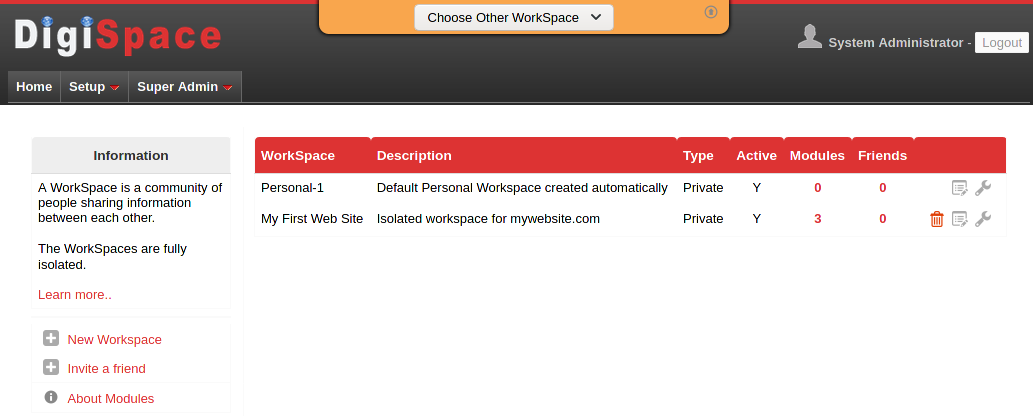 7. From the WebSite menu, go to 'Re-assign a website' in order to assign the www.mywebsite.com to this workspace.


8. All done. You are now ready to start adding content !!!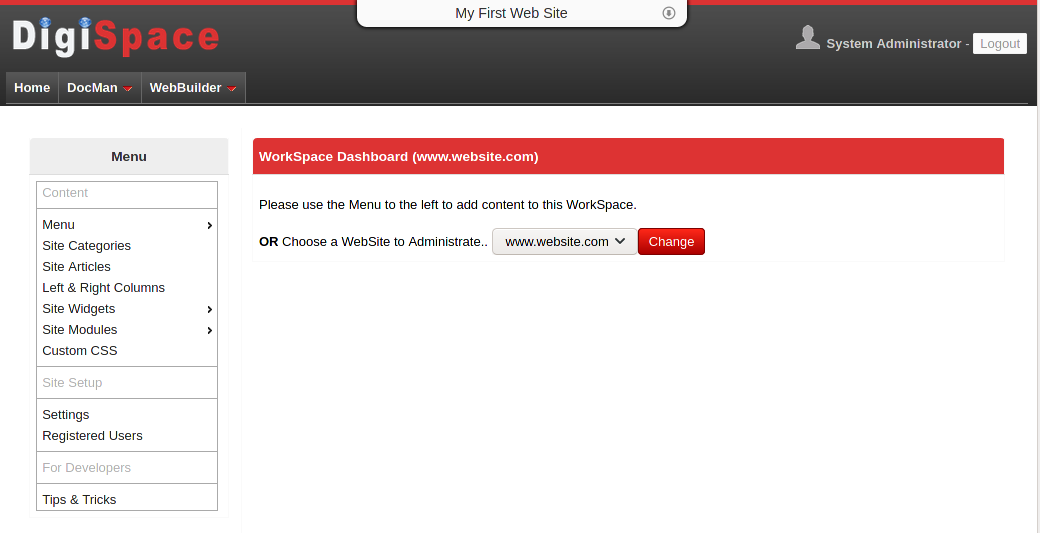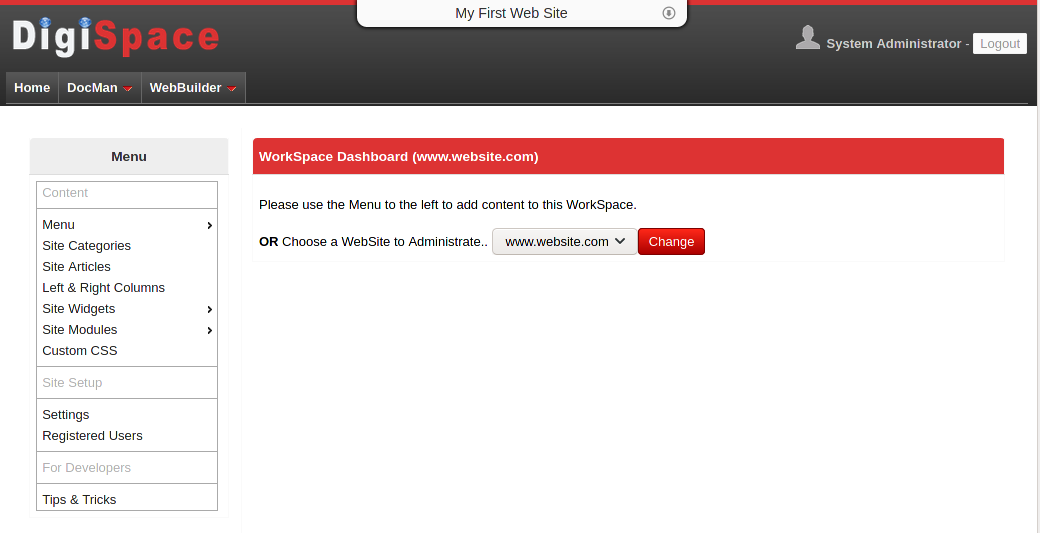 Need an Office ?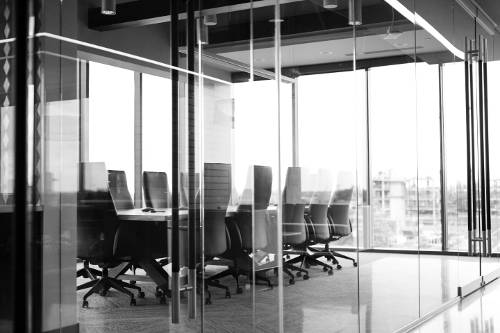 | | |
| --- | --- |
| | Land-Line number |
| | Fax Number |
| | Full Professional Website |
| | Email Accounts |
| | Accounting software and more.. |